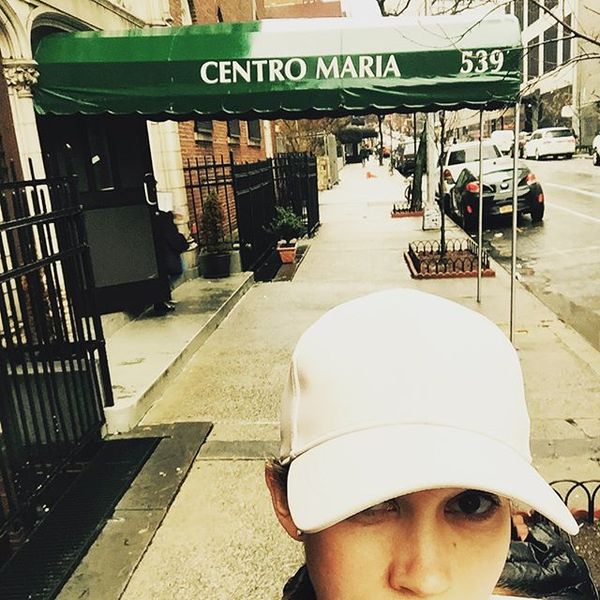 I went to visit a friend and her new baby on the Upper West Side yesterday.  Despite the rain and my own baby strapped to me, I decided to take a slight detour on my walk to the subway and pass by a place I used to live.  Tucked in amongst the Land Rover, Audi, and Mercedes car dealerships near the west side highway is an old church called "Centro Maria".  I came upon it in 2010 or 2011.  I spotted a couple of nuns in Chelsea once, and I got this idea in my head that surely nuns wouldn't charge me too much to live with them.  I wasn't totally correct, but I was on to something.  Fast forward a few months to a Tuesday, and I was in a meeting with Sister Hilda telling her "my situation has changed."  I needed a place immediately.  By Wednesday afternoon, I was moving into my little room with a single bed and a sink.  I was sharing a bathroom down the hall.  I had a curfew.  I had the Virgin Mary statue stay in my room one night.  I took part in the community talent show.  I bought a rosary one evening when someone knocked on my door.  I wasn't allowed male guests.  Breakfast ended at 7am or 8am.  My rent account balance (still $800/month) was slipped under my door every month on manilla card stock, with my name, room number, and fee written with pencil in beautiful cursive.  
These memories and more came flooding back yesterday, and I decided to buzz in.  The sweet girl at the desk remembered me and let me look around.  Nothing had changed, and I descended the perfectly polished linoleum floors to the basement Steinway.  There was the vending machine.  There was the gift shop, untouched.  There was the piano I practiced on.   
It all seemed so romantic.  But it's funny how unromantic and lost I felt at the time.   I had just graduated with a masters degree from NYU, and there I was, with a curfew, reciting the rosary with all the sisters huddled around my single bed.  I was working 8 or 9 part time jobs, wondering where it would all go, wondering where my relationship would go.  I can still hear my oldest sister telling me on the phone one night, while I was in tears: "it won't always be like this."  And of course, she was right.  In a matter of months, everything had changed:  I was  married.  I whittled my part time jobs down to one or two or three.  I went over to the dark side and moved to Brooklyn.  But I think the lesson I learned yesterday was to see the other side of "it won't always be like this."  Not only do I sometimes need the comfort that comes from the hope of change, I also need the reminder that the season I'm in now is a vital part of the story, and it has joy and romance written all over it.  I just don't always have eyes to see it that way.   
For a light version of the story, listen here to the demo of "Can't Pay The Rent".  And enjoy the experience of getting an inside look at the convent - especially if you're male (you wouldn't get past the front door)!